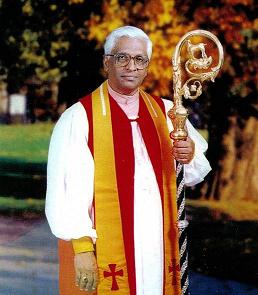 Welcome CSI Church, Kuthiravattom!
The CSI Church Kuthiravattom is one of the oldest CSI Congregations in Kodukulanji District. It consists of about fifty families and we have got one worship service in Malayalam on every Sunday.
Communion Services are held only once in every month on First Sunday at 07.30 a.m in Malayalam. All other Divine services are Matins on other Sundays at 10.30 a.m. Special Sunday services dedicated to Womens Fellowship,Youth Movement, Sunday school etc as per the Diocesan programs are observed by us.

Our Bishop, Rt. Rev. Thomas Samuel
Our Mission Statement
The first and most foundational statement about our identity is that we are a local Church of the Lord Jesus Christ. Jesus came to build his Church (Matt. 16:18). As a husband loves his bride, so Jesus loves his Church and gave himself for her (Eph. 5:25). This is why Jesus is appropriately the Head and Savior of the Church (Col. 1:18). Therefore, we who have been baptized into Christ, monthly partake in the Lord's Table and trust in Him for the forgiveness of sins, joyfully submit to Jesus Christ as the Lord of the Church.
Time of Worship Services
1st Sunday: 07.30 a.m Holy Communion Service
2nd Sunday: 10.30 a.m Matins in Malayalam
3rd Sunday: 10.30 a.m Matins in Malayalam
4th Sunday: 10.30 a.m Matins in Malayalam
5th Sunday: 10.30 a.m Matins in Malayalam